Brand:
SEIKO
Product Code:
SAST100(SBXA100)
---
Product explanation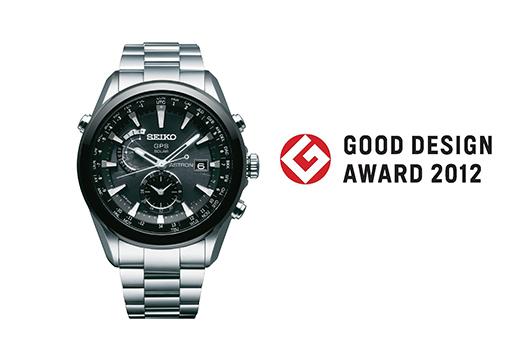 ​
​

What is Good Design Award?
Good Design Award has been sole comprehensive design evaluation and commendation system in Japan since 1957.Many companies and designers from both inside and outside of Japan participate in the activity to enhance the industry or the quality of life though the design."G Mark",the symbol of the award has been recognized widely as mark representing good design.
SEIKO ASTRON was awarded the 2012 Good Design Award in Japan.
Only a very special timepiece would be worthy of such a moment. To celebrate the 100th anniversary of Seiko's very first wristwatch, a unique, limited edition Astron watch has been created carrying, on the case back, the name of Seiko's founder, Kintaro Hattori, and his often-repeated vision that Seiko should always be "one step ahead of the rest". Furthermore, it carries the very first symbol mark for Seiko, registered in 1900, as an engraved and embossed center piece on the case back, and Kintaro's birthplace, Tokyo, is remembered with gold lettering on the time zone bezel. The case is made of high-intensity black titanium, its crown is tipped with onyx, the crystal is coated in Seiko's proprietary anti-reflective finish and it is offered with a crocodile strap and an additional titanium bracelet. This extraordinary watch is offered in a limited edition of 5,000.
The world's first GPS solar watch that recognizes all the currently recognized 39 time zones on the earth.
Seiko has created a watch that can receive GPS signals and identify time and date using the global network of GPS satellites.
It recognizes all the 39 time zone on our earth.
You will know the local time,anywhere on our planet.
Always accurate
Seiko Astron is very accurate,thanks to the time signal it receives from the Atomic Clocks in each GPS satellite.
Never stops
Astron receives all the power it needs from light absorbed through the dial.
It use all kinds of light and there is a power reserve indicator to show the amount of energy stored.
Receives the time signal even on the move
Astron receives GPS signals even when the wearer is walking or in a vehicle.
If you can see the sky,you can tell the exact local time,even on the move.
Recives the time signal quickly
It takes 6 seconds or a little more for the time to self-correct,and 30 seconds or a little more for the time zone.
You will be impressed seeing how the watch moves automatically.
I was very impressed.
---
Product specification
Brand, Seller, or Collection Name : SEIKO ASTRON
Model number : SAST100(SBXA100)
Model Year : 2013
Case material : High-intensity titanium with black hard coating
Band material : Both a crocodile strap and a titanium bracelet are attached High-intensity titanium with black hard coating with three-fold clasp with push button release
Bezel : Ceramic
Glass : Sapphire crystal with Super-Clear Coating*
Water resistance : 10 bar
Magnetic resistance : 4,800 A/m
Case diameter : 47.0 mm, thickness: 16.5 mm
**Super-Clear Coating Seiko's proprietary newly-developed anti-reflective coating, applied on both the front and back of the glass. It prevents 99% of light reflection and allows the dial to be easily legible, even in bright light.
Caliber: GPS Solar 7X52 GPS controlled time and time zone adjustment
Perpetual calendar correct to February 2100
Signal reception result indication
World time function (39 Time Zones)
Daylight Saving Time function
Power save function
Manufacturer Warranty: One year warranty(Return to me)
Manual :
---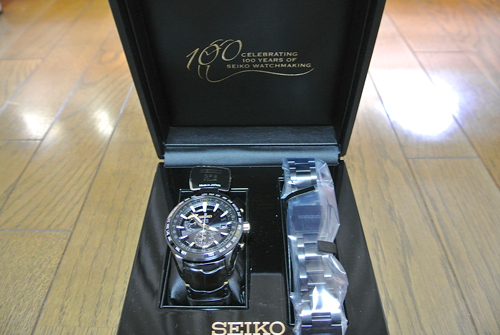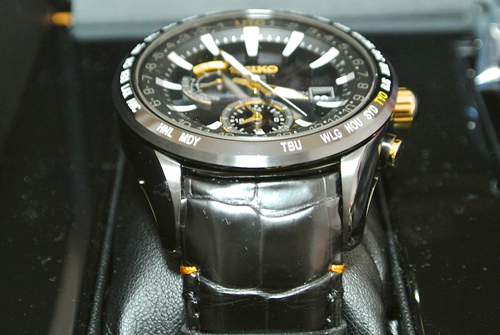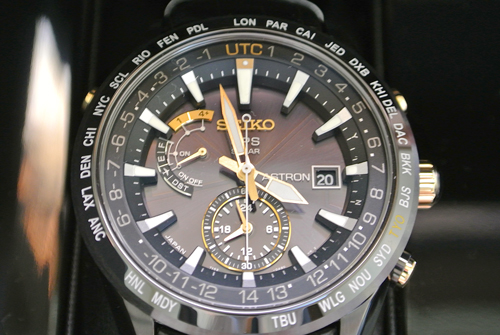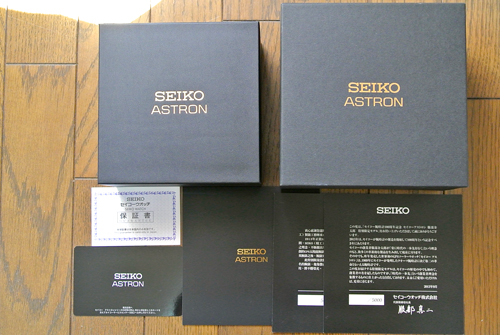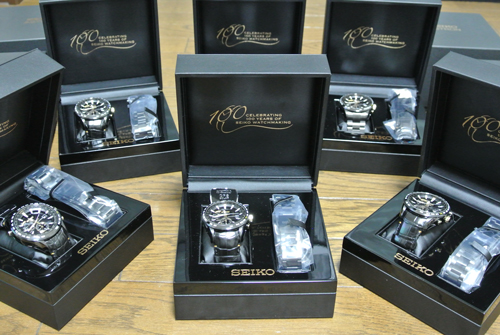 Please feel free to contact
about this product !